How to Find Your iBox CBS Code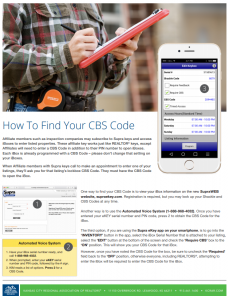 For the convenience of our agents, 360 Inspections is an Affiliate Member of KCRAR and we have obtained Supra keys for each of our inspectors.
With an affiliate key, we must also enter the Call Before Showing (CBS) code for the iBox to gain access. If you are unsure how to find your iBox CBS code, you can read through the different options below or download PDF instructions from the KCRAR website.
4 Ways to Find Your iBox CBS Code
Your Original Paperwork
The original paperwork you received when you leased your iBox from KCRAR should have the CBS code on a yellow sheet with stickers along with your iBox serial number and shackle code.
Call 1-888-968-4032
Have your iBox serial number ready then call the automated voice system at 1-888-968-4032. When prompted, enter your eKEY serial number and PIN code followed by the # sign. You will receive a list of options – press 2 for a CBS code.
Supra eKey App
If you have the Supra eKey app on your smartphone, click the INVENTORY button and select the iBox Serial Number for your listing. Click the EDIT button at the bottom of your screen and check the REQUIRE CBS box to ON. You will then see the CBS code for that box.
**After you get the code, BE SURE TO UNCHECK THE 'REQUIRED' FIELD BACK TO 'OFF'! Otherwise, anyone trying to enter the iBox will be required to enter the CBS code.