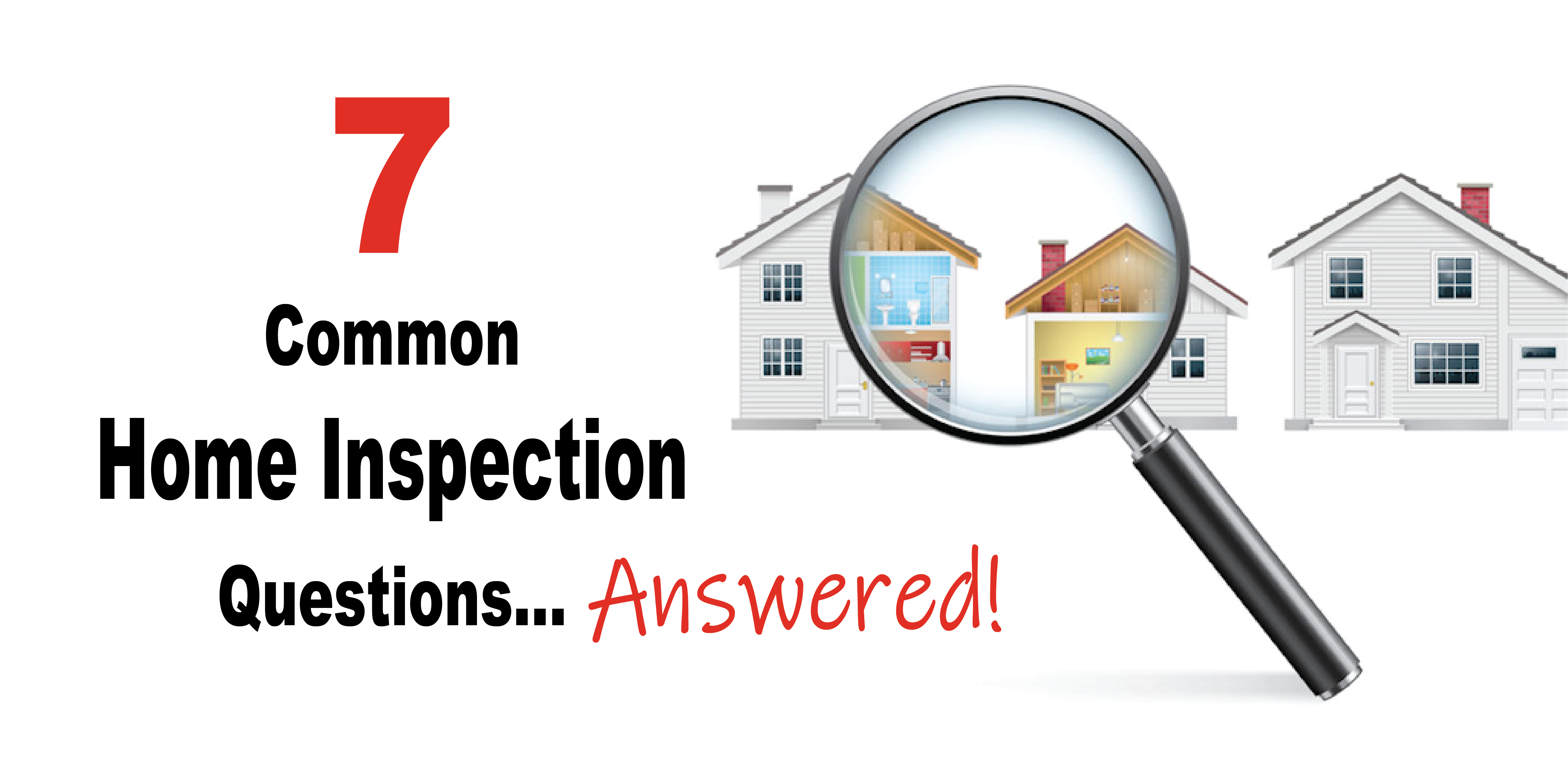 7 Common Home Inspection Questions…Answered!
When you find the home of your dreams, you want to make sure that home is actually a dream and not a nightmare! Investing in a professional home inspection is one of the smartest ways to protect yourself from issues with the home you may not be able to detect on your own BEFORE you finalize the contract. But, what does a home inspection include? How do you choose a home inspector? What if your home inspector finds a lot of problems?
Relax, we've put together answers to some of the most common home inspection questions right here for you so you know exactly what to expect before, during and after your inspection. We even have some tips for sellers so the home inspection goes off without a hitch.
How do I choose a Home Inspector?
When you put an offer in on a home, one of the first things you'll want to do is find a home inspection company. You will only have a limited inspection period so the earlier you schedule your inspection, the more time you will have in case you need to conduct additional inspections.
Luckily, there are many great home inspectors in Kansas City! Your agent will probably provide you with home inspection partners they trust, but ultimately the decision is yours. Try not to choose based on price alone because, as they say, you get what you pay for and what is likely one of the biggest investments of your life might be worth a couple extra bucks for the best inspector—not necessarily the cheapest.
Look for an inspection company whose inspectors are insured and certified by professional associations such as InterNACHI or ASHI. There are no licenses for home inspectors in Kansas or Missouri so you'll definitely want to make sure they are certified at the very least. Call them or email them with any questions you have and you can even request a sample report to make sure what you'll get is easy to read and understand.
How much does a home inspection cost?
Home inspection pricing in Kansas City varies between inspection companies but you will want to compare pricing for the entire scope of your inspection. For example, some inspection companies will charge extra for older homes, additional square footage, outbuildings or trip fees. Some charge you credit card processing fees. Be sure to get final pricing including everything so you can compare apples to apples.
What does a home inspection cover?
A home inspection is a general inspection of the major components of a property that are visible and accessible at the time of inspection. A home inspection is not intended to be a specialized inspection of any component but often identifies which issues may warrant bringing in say a professional roofer, electrician, structural engineer or other specialist for further evaluation.
At 360 Inspections, our standard home inspection includes the following components: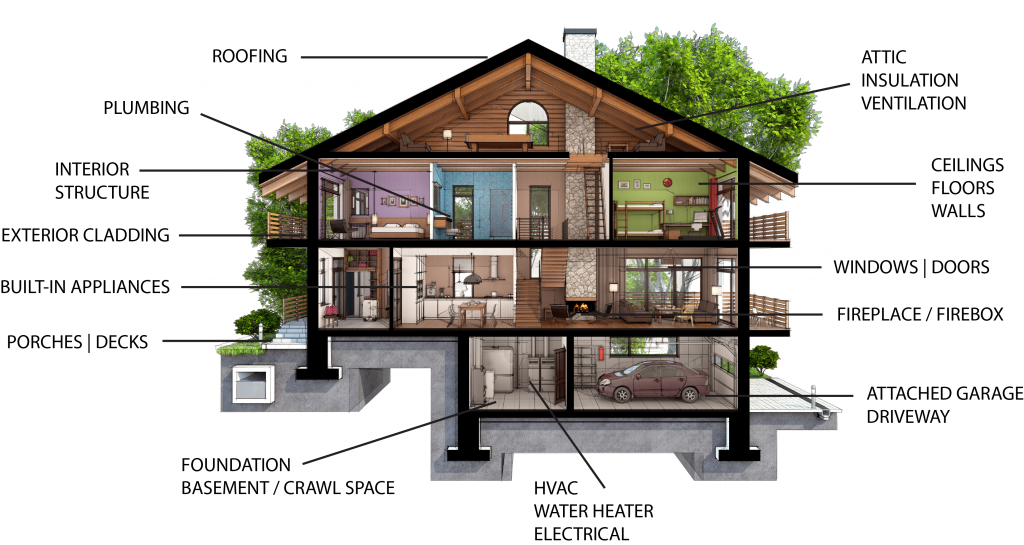 Note: If any of these areas are not safe, operable or accessible the day and time of the inspection, we will not be able to inspect them. (See seller tips below)
Your inspector should provide you with an inspection agreement to sign before the inspection that should clearly outline what is included and excluded from your home inspection. If not, be sure to ask for this in writing in some fashion before you pay for the inspection.
Should I attend the home inspection?
If you can, absolutely yes! Walking the property with your inspector gives you a chance to ask questions and get deeper explanations of issues. While we definitely encourage asking questions, it's important to limit them to the most urgent ones during the inspection and write others down as you go to discuss after the inspection. After all, you want your inspector to be as focused as possible!
You can expect a home inspection to take anywhere from 1.5 to 2.5 hours or possibly more depending on the size of the home and number of issues to address.
I'm the seller. Do I need to prepare anything for a home inspection?
If you are selling your home, it's a great idea to get a pre-listing inspection so you can proactively identify any potential issues with your home that could cause you to lose a sale or delay your sale. Otherwise, it's important to take a few steps to make sure the inspection can be performed as fully and accurately as possible. Here are some things you can do before the inspection to prepare:
Tidy up and remove any clutter blocking access to any area that will be inspected. If we can't access it, we can't inspect it. We commonly see access blocked to the attic and electrical panels and around the basement which are critical components your buyer will be interested in. Paths should be completely clear and provide easy, safe access.
Leave any keys for other areas of the home such as garages, locked rooms, electrical panels, etc. and make sure the keys are labeled please!
Reconnect utilities if they have been turned off
Turn on all pilot lights for furnaces and fireplaces
Take a quick look outside too. Make sure the air conditioning unit and/or detached garages are clear of debris and accessible. Ensure porches, patios and decks are safe and accessible. If the inspection is in winter, it is appreciated to salt sidewalks and driveways for the safety of your buyers and the inspectors.
As the buyer, it's a great idea to be proactive and ask your agent to remind the seller's agent to do all of these things.
Do I need a termite inspection and radon testing too?
We highly recommend adding a termite inspection and radon test at the time of your inspection. They do not cost a lot ($75 and $100 respectively with 360 Inspections) but can be costly issues later. Average radon levels in the Kansas City area are high so it's worth the investment now. If your findings are serious, you want to know before purchasing the home while there is an opportunity to work with the seller to mitigate the issues.
What happens after the inspection?
As soon as your inspector is finished, it's a great time to ask those questions you've written down while you are still at the property. Of course, we welcome your questions any time after your inspection as well.
The inspector will then create a detailed report for you that summarizes your priority items and breaks down your inspection by rooms or areas. You'll see photos with arrows identifying the area(s) of concern along with an explanation of your inspector's findings and recommendations.
Remember, just because you see multiple pages of comments does not mean you should walk away from your dream home! You might have seen our tagline is "Home inspections based on FACTS, not fear" because we never want you to feel scared or nervous after your report. The home inspection is not a "pass" or "fail" thing—it's simply to provide you with as much information as possible to make the best decision for you.
First, many of the items are general wear and tear items or easy fixes but they are included as things you should be aware of. If we spot a potential issue (whether it is a problem now or could be a problem down the road), you hired us to work on your behalf so it is our job to let you know about it. Second, nearly everything is negotiable in real estate! Go over the report with your agent who should be able to guide you in the right direction.
The important thing is to ASK if you don't understand something on the report or want further clarification from your inspector. Any good inspector will welcome your questions and you should never feel uncomfortable asking anything, even if you think it's small or something you aren't familiar with.
Need to schedule a home inspection now?
At 360 Inspections, we try to make it as fast and easy as possible:
Call or text us at 888-360-3603
Email us at 360@360inspectionsKC.com
Ask your agent to schedule through their 360 agent dashboard
We hope this has answered some of the questions you may have about home inspections but we always welcome you to get in touch with us any time for help. We strive to make the inspection process informative and personable so you can make the most confident decision.