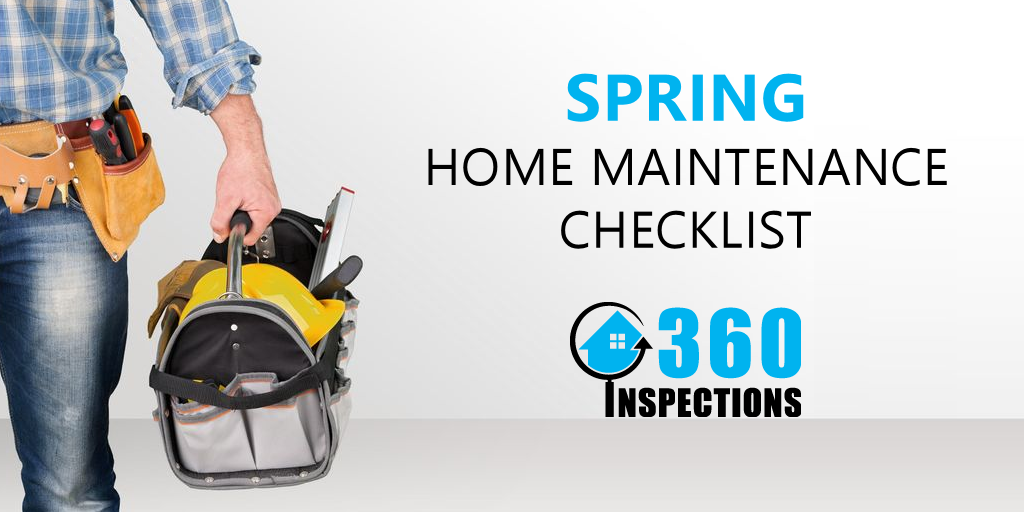 Spring Home Maintenance Checklist
Keeping your home in tip-top shape saves you money, keeps you safe, and protects your property value. If you're not sure where to start your projects, we've got your Spring Home Maintenance Checklist right here! And don't forget to bookmark our Winter Home Maintenance Checklist too so you can maintain your home all year round.
Inside Maintenance Checklist
HVAC Maintenance – Spring is the perfect time to call an HVAC technician for a checkup. They get busy so before you turn on the air conditioning, have a professional come in and check for damage and clean your HVAC units, ducts, and vents. Change your filters.
Sump Pump – Check the drainage on the pump and make sure it drains properly. You don't want to wait for a big storm to find out it isn't working!
Plumbing – Check under sinks and around laundry areas for leaks, look for water stains on the ceilings, and assess flappers in toilet tanks for wear. If you're nervous there may be a problem, call a plumber.
Chimney/Fireplace – Have your chimney and fireplace inspected and cleaned at least annually.
Smoke/Carbon Monoxide Detectors – Check that all detectors are working properly and replace batteries.
Windows – Assess the interior of windows for any gaps in seals or damage to glass. Caulk around glass and trim.
Attic/Basement – Walk the attic and basement and look for signs of insects or animals, search with a flashlight for signs of mold (gray or black blotches that can appear like stains) and other damage. If you see signs of any of the above, call an expert. In the basement, check for foundational damage like cracks or standing water.
Cleaning – It's not called "Spring Cleaning" for nothing! Give the house a good scrub from top to bottom, behind appliances, inside cabinets, under furniture, etc. Be sure to wear gloves and a mask when dealing with chemicals for cleaning.
Outside Maintenance Checklist
Home Exterior
Do a quick walk around the outside of your home and check the following:
Roof (binoculars are helpful) – Do you see any damaged or out of place shingles or patches? If there are portions you cannot see well, have a roof inspector come and walk your roof.
Chimney – check any joints between bricks or stones, remove vegetation, and check for excess moisture.
Gutters – Clean out the gutters and downspouts and repair any damage. Make sure your downspouts have extenders so they aren't dumping water too close to your foundation. Clogged gutters can also cause wood rot at the eaves!
Walls – Look for damaged siding, excess moisture, mold, termite damage, etc.
Windows – Assess for any holes in screens, gaps in seals, condensation on glass, or anything else that stands out. Now is a great time to clean the screen with mild detergent and a cloth.
Foundation – Check for any cracks or gaps around the base of your home, garage opening, doors, etc.
Exterior Air Conditioning – While you can assess major damage to exterior air units, it's also smart to schedule a quick unit inspection to ensure it is running smoothly.
Yard Maintenance
Decks/Patios – Check for termite damage, dangerous cracks in steps, or anything else that could pose a threat to your home and your safety. This is also a great time to reseal any wood to protect from harsh sun and storms.
Fences – Look for gaps in fence posts or chains, any damage to gates, and look for holes under fencing and fill in as needed.
Sprinkler/Irrigation Systems – Test the system and make sure none of the heads are damaged and adjust the spray direction if needed.
Yard Cleanup – Rake up any remaining leaves, re-mulch flowerbeds, turn on outside faucets, and check for any animal holes as you're walking around.
Trees – Assess for dead branches and have them trimmed or maintained as necessary. If you're unsure, call a certified arborist.
Pests – Prevent mosquitos by removing any standing water from dips in your yard or landscaping, apply insect barrier spray to the outside perimeter of your yard and home (follow directions on the container), and always cover any garbage cans.
Tool & Machine Maintenance – Inspect any of your yard tools like clippers, mowers, weed eaters, etc. for damage, rust, or other signs of wear that could be dangerous or impede on the tool's safe use. Repair as needed.
While this checklist isn't comprehensive of every possible thing you can do for your home this spring, it's a great start to help you feel confident you will be set to relax and enjoy your summer months. If you want a certified home inspector to inspect your home from the top down and inside out, schedule your inspection today and we'll get you a detailed report and recommendations for peace of mind.