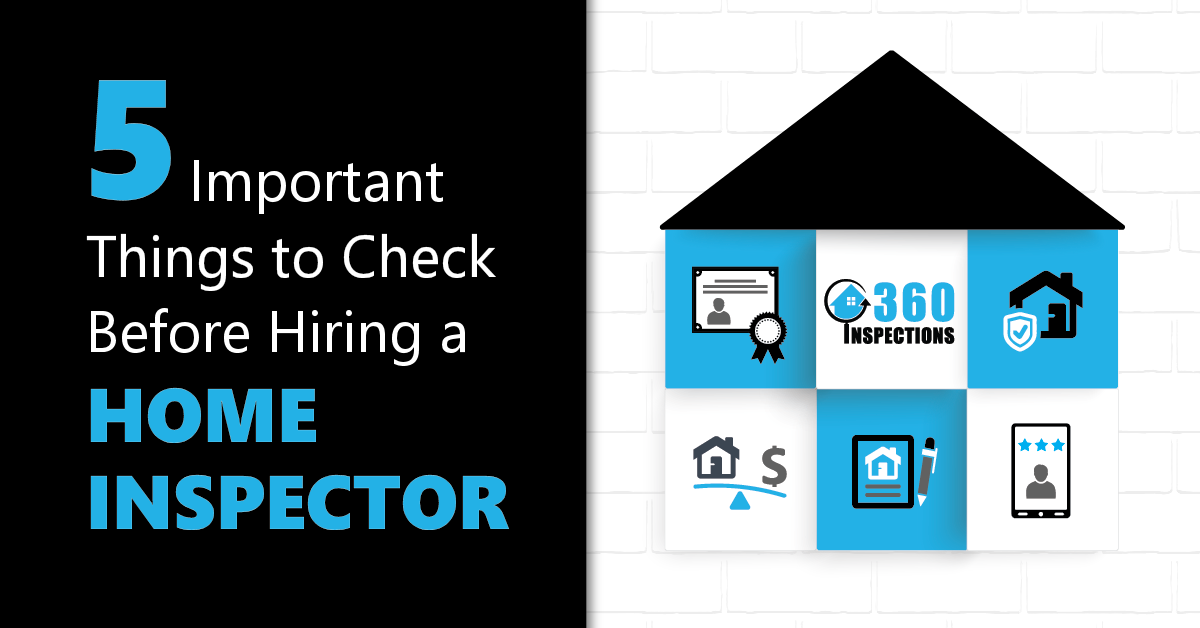 5 Important Things to Check Before Hiring a Home Inspector
Are you getting ready to buy a home, sell a home, or got your eye on an investment property? Already under contract on a house or property? Hiring a home inspection company or home inspector you can trust is a very important part of your real estate journey. As you do your homework, you may get overwhelmed with all the differences between inspectors like what's included in your home inspection, how much your home inspection will cost, and what else you should look for to choose the best one.
To help you narrow down your list, we'd like to share what we believe are the 5 most important questions to ask home inspectors right off the bat. If you get these questions answered first, you'll be well on your way to getting the best home inspection at the best price for your specific needs.
1. Certifications / Licenses
Are you looking for a "licensed" home inspector in Kansas City and wondering why nobody seems to be licensed around here? That's because there are no state licenses or requirements in Missouri or Kansas! So how do you know you're working with a professional? Many home inspectors in non-licensing states like ours still pursue training and certifications.
In Kansas City, you'll want to look for "certified" inspectors by reputable home inspection associations such as the International Association of Certified Home Inspectors (InterNACHI) or American Society of Home Inspectors (ASHI). There are others, but these are the two prominent organizations that train and certify home inspectors.
Inspectors with 360 Inspections are certified by either ASHI or InterNACHI and follow their respective standards of practice and codes of ethics.
2. Insurance
Make sure your home inspector or home inspection company carries adequate insurance to protect you in the event of an accident or error during the home inspection.
360 Inspections carries General Liability, Errors & Omissions (E&O), and Workers Compensation insurance for both Missouri and Kansas to protect everyone during an inspection including clients, homeowners, agents, our 360 inspectors, and our service partners.
3. Background Checks
360 Inspections is an affiliate member of the Kansas City Regional Association of Realtors (KCRAR) with iBox access which means our inspectors had to pass the same background checks as Realtors. This is just extra peace of mind we provide our clients and agents.
4. Clear, Documented Agreements
Your home inspector or home inspection partner should provide a clearly defined agreement for you to sign that outlines what is included and excluded with your home inspection, detailed pricing, liability disclaimers, permissions to share your report, and more. The agreement is very important so be sure to read all of it before signing!
360 Inspections provides an agreement you will sign before your inspection either electronically or at the time of the inspection.
5. Transparent Pricing (beware of all the extras!)
Nobody likes that "gotcha" moment when you see a great price advertised but once you add up everything you really need and read the fine print it's more than you expected. So how much will your home inspection cost?
Pricing varies across home inspectors in KC, but some common extra fees you want to consider:
Credit card fees
Extra fees to inspect crawl spaces
Extra fees for older homes
Extra fees for detached outbuildings
Extra square footage fees
Trip fees
Also watch for a cheap home inspection price to draw you in but higher prices for your other inspections like termite, radon, and sewer. You may want to get a complete quote in advance for ALL the services you need before choosing the best home inspector for your specific needs.
With 360 Inspections, pricing for a standard single family home inspection is up to 3,000 square feet and we never charge you credit card fees or extra to inspect crawl spaces! We also have a large service area for home inspections in Kansas City and surrounding areas in Missouri and Kansas.
Be Sure to Check Customer Reviews and Referrals
In addition to all the above, reading home inspector reviews from actual customers is a great way to check out what past clients and agents liked or didn't like about a particular inspector or company. Don't be too shy to ask for referrals you can call to learn more about the inspector and the experience they had. This is a big investment you're making!
Your agent will be a great source for home inspectors they have personally worked with, but keep in mind YOU are hiring a home inspector to work on YOUR behalf. We are lucky enough to have great relationships and friendships with hundreds of Realtors in the Kansas City area and we will all tell you—this is your investment and who you choose for your home inspection is completely your decision.
360 Inspections proudly has all 5-star reviews from our customers and agents. You can check out a few here or read all our reviews on Google or Facebook.
How do you schedule a home inspection?
The good news is there are many great home inspectors in Kansas City! Hopefully this article helps you choose the right one for you and your needs whether you are buying a home, selling your home, or investing in residential or commercial properties.
And of course, we'd love to be your home inspection partner so give us a call or send us a message any time with questions or to chat about any of the above. Or, if you're ready to go, you can schedule your inspection online right now! We wish you all the best no matter which home inspection partner you choose.